Windsor 8 ELA Homework Blogs
​
Reread The Guest House by Jellaludin Rumi

Continue to C.A.T.P. (Make Connections--Ask Questions--Translate--Predict)/ Annotate the poem.

Begin to think about theme ideas and write a few on the back of the poem.

Here is the poem below:

THE GUEST HOUSEThis being human is a guest house.Every morning a new arrival.A joy, a depression, a meanness,some momentary awareness comesas an unexpected visitor.Welcome and entertain them all!Even if they are a crowd of sorrows,who violently sweep your houseempty of its furniture,still, treat each guest honorably.He may be clearing you outfor some new delight.The dark thought, the shame, the malice.meet them at the door laughing and invite them in.Be grateful for whatever comes.because each has been sentas a guide from beyond.

– Jelaluddin Rumi,
Powered by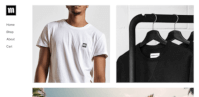 Create your own unique website with customizable templates.