Windsor 8 ELA Homework Blogs
​
Ms. Wilson's Science page
Homework for Tuesday, 10/18:

Diagram and label how wind is produced. Include movement of warm and cool air molecules, air pressure, uneven heating of earth's surfaces, rotation of the earth.

This week students are working on targets 4 & 5. Please check the

Class Website

for further information.
Powered by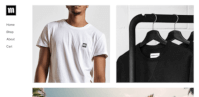 Create your own unique website with customizable templates.