Windsor 8 ELA Homework Blogs
​
Ms. Wilson's Science page
This week students will finish their

individual concept maps

to demonstrate their understanding of the forces that contribute to flight. Then students will compose a

thorough answer

using the outline provided by their maps, to answer the question How Do Planes Fly?

This assignment is a

summative assessmen

t for the power standard:

I can describe and apply an understanding of the effects of multiple forces on an object.

The directions and links are all available on the

Class Website.
Powered by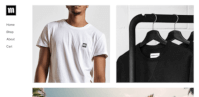 Create your own unique website with customizable templates.